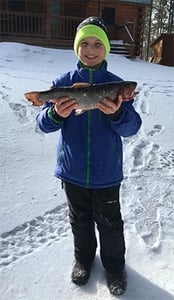 This year, we are celebrating winter with a Winter Camp on February 3rd and 4th, 2023. Campers will be able to learn a variety of outdoor, physical skills which may include snowshoeing, ice fishing, winter survival, recreational snow games, and archery.
So remember… DRESS FOR THE OUTDOORS. Bring gloves, a hat, a winter jacket, snow pants, boots and other winter clothing. Also include a spare pair of socks and gloves, a water bottle and lunch. Activities will be in a group format so be ready to learn with your group. Winter Camp Day is for ages 8 – 15. Groups will be separated by age. The cost is $100.
Transportation will be provided to and from Pickerel Pond. The bus will be at the Dr. Lewis S. Libby School in Milford for both drop-off & pick-up.
Drop-off from 7:15 – 7:30 am
Pick-up approximately  4:30 pm
Winter Camp registration is now open. Click below to enter our online application.
Health forms will be emailed once online registration is complete.  If you would like to download and print one, please click the link below.
If you have any questions or concerns, please do not hesitate to contact the Winter Camp Director, Bryan Murphy at: [email protected]  or (207) 317-0983. We check messages multiple times daily and will have his cell phone available at camp if either a camper needs to contact a parent or a parent needs to contact their child or himself.